I'm linking up with Fun in Room 4B for her Friday linky party about your fabulous finds. This is probably the only time I'm going to get to link up since I'm on a spending freeze after a trip to Big Lots.
Ok so I'm not sure that I followed all the rules with this whole linky party. I'm pretty excited about some of my recent finds. The first big one is from Big Lots. I found dry erase circles that I want to put on my table that I use for small groups. This would give kids a fun place to build words or respond to texts.
I also found some sticker dispensers from crayola that were really cheap and some large zipper pockets that I think I'm going to put math station activities or word work activities in it.
I went to Walmart Monday with my niece and found some really fun stuff in the 88 cent section. They have some really neat teacher geared things.
I found some of those smelly markers that I've seen all over blog land. I'm pretty excited about using them to grade papers. I also got some snap it things for your pencils. I'm working on an idea for rewards like erasers and these snap its for pencils. I haven't gotten it all set in my brain yet, but I'll share when I do. In the clearance section, I found some removable wall stickers in letters and then the phrase, "You are somebody's reason to smile." Not sure what I'm going to do with them but I'm sure I'll figure something out.
So those are my finds for the week. I'm going to have start finding some things in my classroom to finish decorating my room and getting ready for next year. Chris has put me on a spending halt. He was none to happy with my total spending this past week. I'm not use to having to worry about anyone else being affected by my spending. But I have lots of things in my room and my craft materials at home. I think I can finish most of the rest of the room without buying too much more. I'll probably have to avoid the dollar spot at Target and the Dollar Tree. Eeek! I'm off to Bible Study, tutoring, and then lunch with my teaching friend Sarah. I started attending a Bible study at church 2 weeks ago and I thought it started at 10:30 but it started at 10. Whoops. Don't want to be late today. Be sure to check out the other Fabulous Finds at Fun in Room 4B.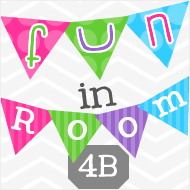 On an unrelated note, I'm guest blogging over at Kinder Kraziness. I have 2 freebies for Chicka Chicka Boom Boom so please go check it out. If you don't know Laura at Kinder Kraziness you should. She's my bloggy BFF and she's awesome.
< /a>