Yesterday, I received my gift in the mail and I loved it. It was from Michelle at A
pples and ABC's: Adventures in Kindergarten.
She sent me a beautiful letter B since I'm getting married in a little over a month and my new last name will be Buckner. She also made some really neat magnets for my classroom.
I loved my gifts. Thanks to Michelle and thanks to Ms. Preppy and Sarah for organizing the exchange. If you haven't partcipated in one of these. You should. They are so fun.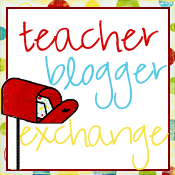 Start following the blog so you'll know about the next one. Tomorrow I'll be guest blogging over at Kindergarten Lifestyle. I'm so excited. Be sure to check me out there and here. I plan to have some rain forest freebies for you.