This winter break has been so wonderful and a big part of that wonderfulness is my blogging. I have had the time to get on the computer everyday and keep up with bloggers and comment. I've found tons of new blogs out there and have a whole folder full of ideas for winter activities. To top it off, I've started contributing to a new blog The Best Endings, made some new blogging friends, and got an email from Dr. Jean. (I'm such a dork but I love that woman. So it completely made my day when she responded to one of my comments with an email.) And now Michelle at Inspired by Kindergarten has awarded me The Versatile Blogger award.
I'm so grateful and excited about how my blog has taken off. I've reached over 100 followers and feel like I'm part of a wonderful community that improves my teaching everyday.
Here are the rules of this award:
1. Thank the person who nominated you with a link back to them.
2. Tell 7 things about yourself (see below)
3. Pass this on to 15 newly discovered blogs and let them know they've received an award!
Thanks to Michelle. I appreciate this so much. Check her blog out.
Here are 7 things about me:
I have such a hard time coming up with things about myself. I can't believe anyone would want to hear these things.
1. I'm starting to plan a wedding for June at the beach to my love. I'm also excited to be going through this whole wedding planning and being engaged with Sarah. Sarah is the one of the other kindergarten teachers I teach with. We started at our school together and we're really close.
2. I 'm addicted to pinterest. Who isn't these days? I love doing crafts and pinterest is perfect for feeding this hobby.
3. I love crime and mysteries in tv show form or book form. This worries my fiance a bit. He isn't as into the whole murder and mayem like I am.
4. I started a girls ministry at the church I used to go with. I still have really close relationships with those girls. I'm looking to do something similar at my new church. I think girls need time together to grow in their relationships with Christ, themselves and each other.
5. I'm afraid I would make the worst housewife ever. I'm a good cook but a terrible housekeeper. Chris cleaned up my porch and storage closet yesterday and commented that now this part of the house looks like an adult lives there. Unlike my bedroom and guest room that are disaster areas.
6. Reading is my passion. I love to read and love to teach reading. I give books to every child I'm close with. I give them toys too but I think books are so important. My nieces (Sophie is my sister's and Kaley is chris's sisters.) get books from me all the time. I just want to make sure they love reading like I do.
7. I do a variety of crafts. I crochet and make jewelry pretty consistently. I also have sewn some and want to start more. I also use scrapbook paper for a variety of purposes.
Yay! I finally came up with 7 things.
Here's the even harder part. Naming blogs.
I'm trying to award all the new blogs that I've found and love.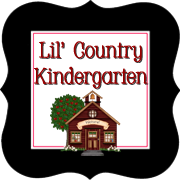 Mrs. Ricca's Kindergarten

The Picture Book Teacher's Edition
Ok so this is just a list of 10 but you get the idea. There are so many good blogs out there. So check out some of these that I nominated.