I have been exhausted this week. I think I've just had too much going on. I had a formal evaluation on Tuesday and my fellow kindergarten teachers have been out this past week. We went on a field trip on Thursday. So it has been a busy week.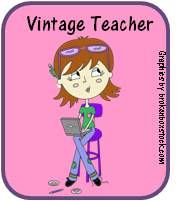 I have a freebie and meant to post it to yesterday but the day got away from me before I had time to post one. So here's a freebie in honor of Pam from the Vintage Teacher. I definitely took advantage of her Freebie Fridays. I created a reading calendar for the month of February. I know it's a few days into February but hopefully you can still use it. The graphics are from Scrappin Doodles and Graphics from The pond.
This idea is adapted from a calendar I found on Dr. Jean's website. I couldn't find them after I downloaded the January one so I had to make my own.
If you teach Kindergarten and you didn't attend the kindergarten Expo, you should have. I didn't have time to watch the videos last weekend. But I did watch Hadar's about Routines and Rules Sunday evening and then part of Crystal's on Writing Workshop. This morning I took the time to watch Fran's about Standards Based Fun. It was awesome. She's an amazing woman and I really don't know how she gets everything done. I took about 5 pages of notes and have tons of ideas of things I want to implement and create. I hope to get a few things made this weekend. So check back later this week for some freebies. You can still purchase a ticket for the event and check out the presentations. They are so worth it.