I am so excited to be partcipating in this product swap. Not only did I get a great product from my partner, I got a great bloggy friend. My partner was Holly from Crisscross Applesauce in First Grade. We had emailed some before about Daily 5 but it was nice to get to know her a little bit better. Check her blog out and follow her if you don't already.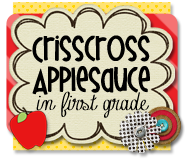 The product I chose from her store was her Parent Night Teacher Toolbox.
Product Includes:
*Community building puzzle piece printable
*Healthy snack list
*Student stars and wishes - find out how your students feel about their academic skills
*Magic playdough at-home activity - build excitement for that first day of school!
*Parent email form
*Introduce child - parent perspective
*List of other ideas to include in parent night packet, PowerPoint, online resource
*Template for parent to write letter of encouragement. Parent writes and leaves on desk of child for a happy surprise the next day!
*Recipe for literacy - cute printable
*The giving tree - print, adhere to construction paper, laminate. Write wish list items on mini sticky notes. Parents take any stickies home for what they'd like to donate.
*An apple for the teacher poem - small printable to place on each desk with apple. Reminder that this is a team effort!
*Writing box printable - ideal gift for the beginning of the year!
The things that I liked best and have all ready for copying for registration night are the giving tree, recipe for literacy, the community puzzle pieces and a parent email form. Holly was nice enough to add a few things to the parent email form and it saved me from having to make my own. Some of these things I won't use this year, just because I loop with my kids and I am already familiar with most of them and their families. But next year I will be using the introduce child- parent perspective, and the magic playdough activity for sure.