I can't believe it is March already. It blows my mind that we are so far into the school year. We got an email from our assistant principal today saying there were only 52 more days left of school. What!? I still have so much to do. Plus I love this group of students and their families. I've had them for almost 2 years now. It will be so hard to say good bye to them. I think I have worked this group harder and expected more than I ever had. This is in part due to the discovery of blogging and Teachers Pay Teachers. I've said it before but it really has made me a much better teacher. The best part of blogging is all the friends I've made through it. Chris is always trying to figure out if I'm talking about friends that I've actually met or ones that I just know through the computer. It's even better when I've met them in real life and we're friends through the computer. I'm so thankful for my Kinderland friends. If you don't follow this pinterest board or haven't checked out the google + community yet, you need to. There are some great ideas there.
We are currently having a sale on our TPT stores.
There was also a product swap but I was a slacker this weekend and didn't get my stuff together. Chris and I went to Bluegrass Underground. (It was a bluegrass concert in a cave. They air it on PBS and they were taping for their November shows this past weekend. I have some cool pictures I'm planning an activity for) It was so fun but about 3 and a half hours away and we spent Sunday getting caught up. I was paired up with Greg from Kindergarten Smorgasbord. If you haven't checked his blog out, you need to stop reading this post and head over there right now. He's got great ideas and great stuff. And he's a fellow Tennessean.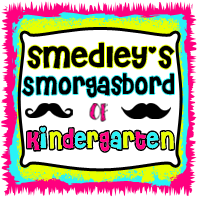 He sent me his Basketball Math and Literacy Madness pack. This pack has so much in it that I'm not ready to post about it fully. I don't have enough pictures to do it justice yet. But today we used his addition fact cards to play around the world and the kids had a blast.
I spent some time today updating a couple of the packs I made last year. I worked on my Buggy for Words and my Sweet Treats. Buggy for Words just needed a little cleaning up but the Sweet Treats was a hot mess. It was the first unit I made. It has some good activities but it looks a lot cleaner and more put together now.
I'll be back later this week with some freebies and more information on Greg's awesome Basketball Activities.