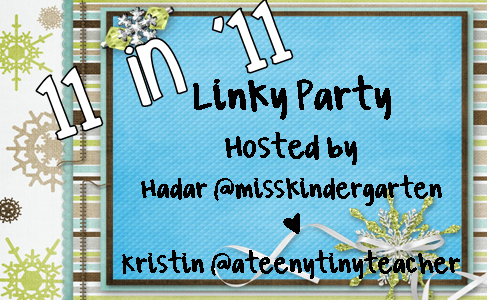 I'm super excited to get to participate in this linky party finally. After going to church last night, I'm finally able to share my exciting news.
11. Favorite movie you watched
I have no idea what my favorite movie watched is. I haven't seen The Help yet and I feel like the only person out there who hasn't. It's on my netflix list. Chris and I watch a lot of super hero movies. I really liked Captain America.
10. Favorite TV Series
I love Burn Notice, Closer, NCIS, Madmen, Criminal Minds. Are you sensing a pattern here? I love crime shows and spy shows. My fiance (did you catch that change in how I'm referring to him?) banned me from all murder shows during the holidays. At least when he was around. I've still watched a lot of these shows when he's not around. I'm like Mrs. Coe at Little Miss Kindergarten and really like Jerseylicious too.
9. Favorite Restraunt
Mellow Mushroom is probably my favorite. Or Little Tokyo. They know Chris and I at Little Tokyo because we frequent it so much.
8. Favorite New thing you tried
Part of me wants to say blogging but it's not really a new thing. I've been blogging for a while but this is the first time I've been really successful at it. Well, I think it's successful. I'm only one follower away from 100. But I think creating materials for my class and sharing them with others is my favorite thing I've tried. I really enjoy creating new materials and using clip art. I wish I was artistic enough for creating my own clip art. I haven't been that successful selling anything but I hope that people have used my freebies and it's helped them in their classroom.
7. Favorite Gift I received
On the Friday before Christmas, my boyfriend took me up to where we first went on a hike and proposed to me. It was the best Christmas present ever. He picked out the ring all himself and it was perfect. We had a very busy Christmas of telling his family and my family. We don't have any dates set yet. His parents are leaving in a couple of weeks to be missionaries in Africa. I don't think I can wait for them to come back. I'm ready to get married to the love of my life.
6. Favorite thing you've pinned
I pinned a lot of different things that I loved. I enjoyed making some of the things I've pinned for Christmas presents. I also enjoy trying different recipes I've found. This is my favorite recipe I've pinned and made.
They were delicious. This is a pin of my favorite craft project I made. I didn't quite follow the directions on it but I was making bracelets instead. I made several of them for Christmas presents and they were a big hit.
5. Favorite Blog Post
I really don't know what blog post is my favorite that I wrote. I just write about what is going on in my classroom in hopes that someone can benefit from it.
4. Favorite A
ccomplishment
I think my favorite accomplishment is just being willing to try to new things in my classroom. I've been working really hard on being positive this year and trying to be a positive influence at my school. I started a prayer group at school and I'm pretty proud of that. I think it's helping to create a more supportive environment amid all the changes and difficulties we're faced with as teachers.
3. Favorite Picture
This is the other love of my life my sweet niece Sophie. She's 16 months old and is the funniest, sweetest child I've met. I love her to pieces. She's a lot like me. It cracks me up. She loves books, paper, and is fiercely independent. We have had a ton of fun playing together this Christmas.
2. Favorite Memory
My engagement is going to be one of my favorite memories of my life and this year. I'm also just loving this past year that I've spent with Chris. We've camped, hiked, eaten and just spent a lot of time together. He's the best thing that has happened to me. He believes in me and supports me through all the new things I'm trying. My brain is always going 90 to nothing about school stuff or church stuff. Chris does a pretty good job trying to keep up with all my random thoughts.
1. Goals for 2010
I've already posted my New Year's resolutions. I hope to get more organized this year, try Daily 5 and run more.